Animal Jam codes can be found in magazines, advertisements, official animal jam toys, and merchandise. AJHQ also releases special codes for holidays and other celebrations. Every Animal Jam code rewards a cool prize, from items and pets to Gems and Diamonds.
To redeem your code from the Animal Jam homepage, first type your username and password into the Player Login. Click the box next to I Have a Code to Enter, type your code, then click Play. When you arrive in Jamaa, your reward will be waiting for you.
To redeem your code while playing Animal Jam, click the My Settings icon shaped like a gray gear in the top right corner. Click the blue Enter Code button, type your code, then click Continue to get your prize.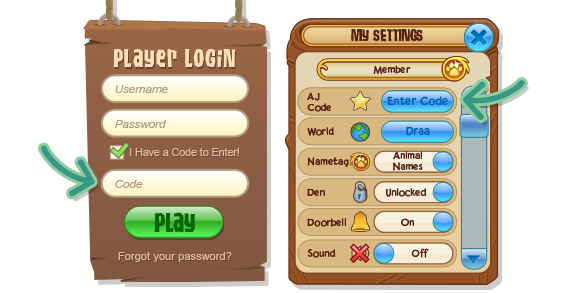 You can also redeem your code by visiting the Redeem Page.
Codes can only be redeemed once. And remember, Jammers: never give away any of your personal account information, even if someone promises to tell you a code in return. There will never be an Animal Jam code that will require you to share any of your account information.