Packs are the coolest way in Animal Jam for Jammers to hang out, chat, and compete as a team. Any player can join a Pack, but only players with Membership can create their own custom Pack. Each Pack has their own unique Pack Crest, which you may recognize as the variety of symbols attached to players' name cards in Jamaa. You can open the Pack interface by clicking the purple tab located on the left side of your screen (if you have already joined a Pack the icon on the tab is your Pack Crest, if you haven't there will be a shield icon).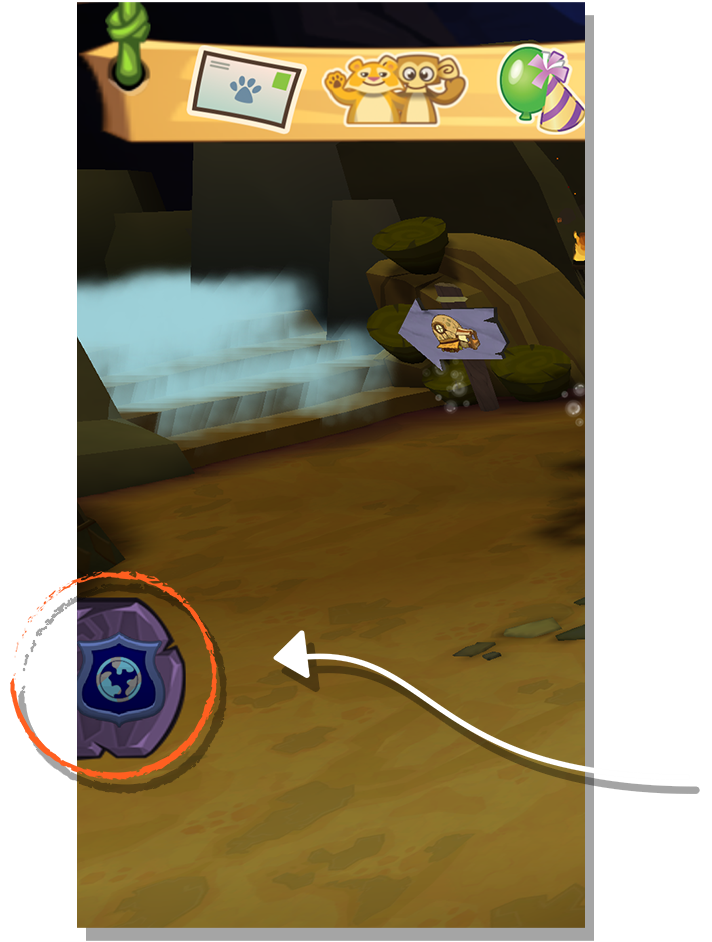 By joining a Pack you gain access to a variety of new features/activities, including a Pack Hideout, Alpha Hideout, Gem Tree, Pack Chest, Color Cloud, Pack Chat, Pack Merch, Target Practice, and seasonal Pack Runs. Every Pack has an Alpha they're allied with, which determines what their Pack's Hideout looks like. These Pack Hideouts are exclusive areas only accessible to one's fellow packmates. In addition to the Pack Hideout you can also visit the Alpha Hideout, where Jammers from any Pack allied with the same Alpha as you can interact.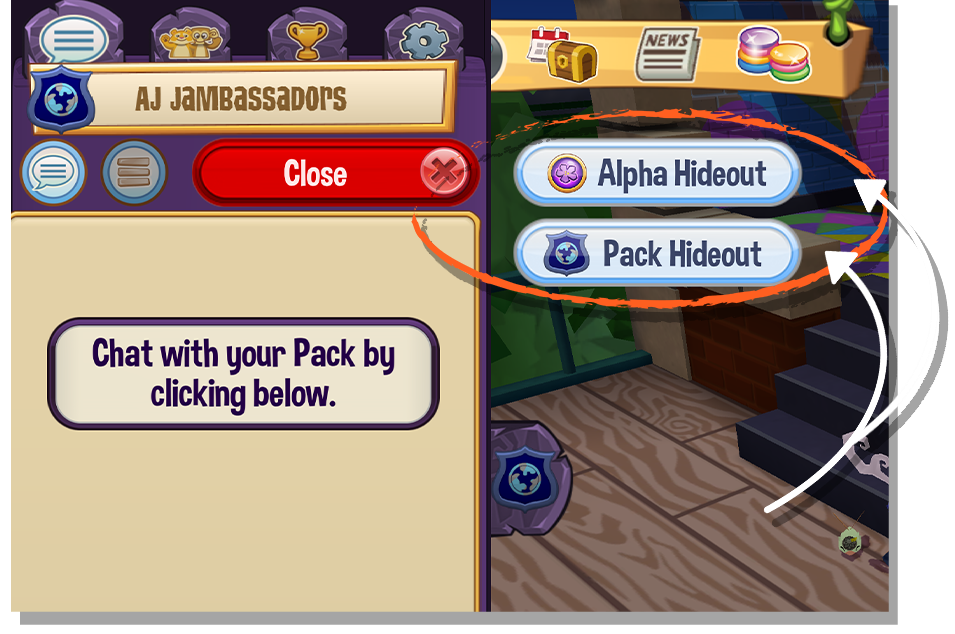 Within your Pack Hideout are a few items & activities to take note of:
Gem Tree - a potted tree that grants currency every hour.

It most commonly gives out parcels of gems, but if you're lucky you'll receive Sapphires from time to time.

The Gem Tree is available to all players!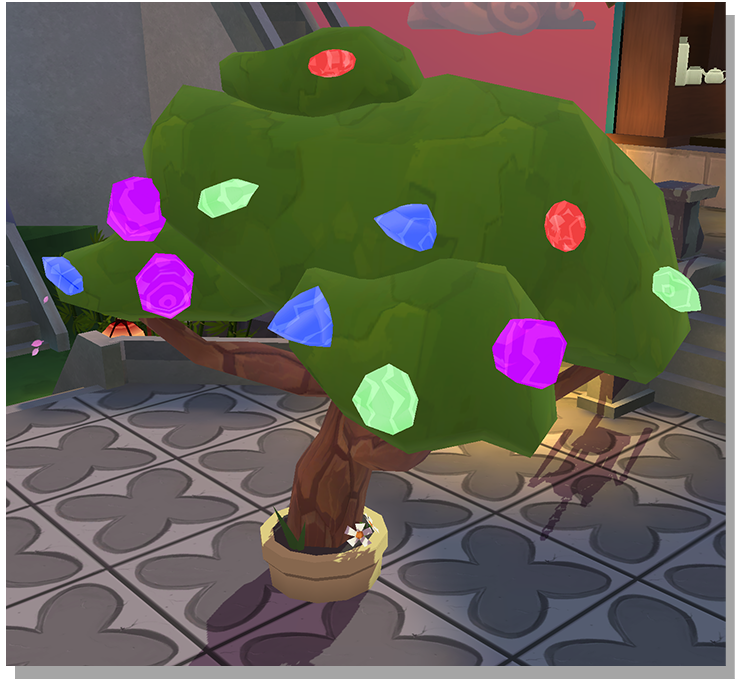 Pack Chest - a golden chest that gives out gifts.


Exclusive items (available in the Pack Chest one day only) can be redeemed on Fridays and Sundays.

Every other day the chest will grant random amounts of gems or Sapphires.

The Pack Chest is available to Members only.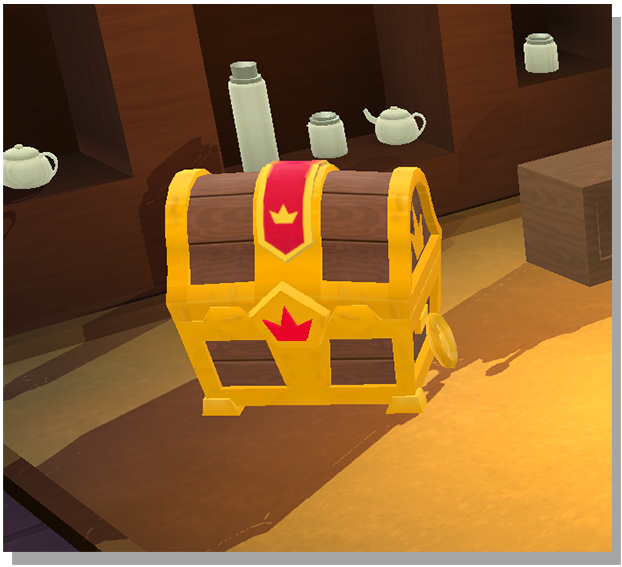 Color Cloud - a cloud full of colors that dyes your coat a random color.

Make the Color Cloud appear by stepping on the large paint palette tucked in a corner of your Pack Hideout. Keep an eye out for visits from its creator, Hugh the Raccoon.

Some colors the cloud gives are not available anywhere else!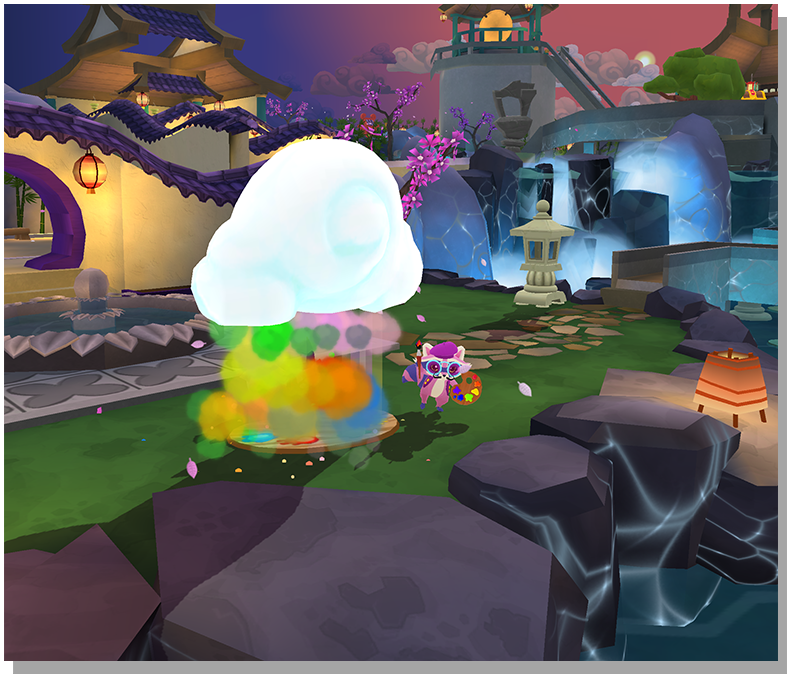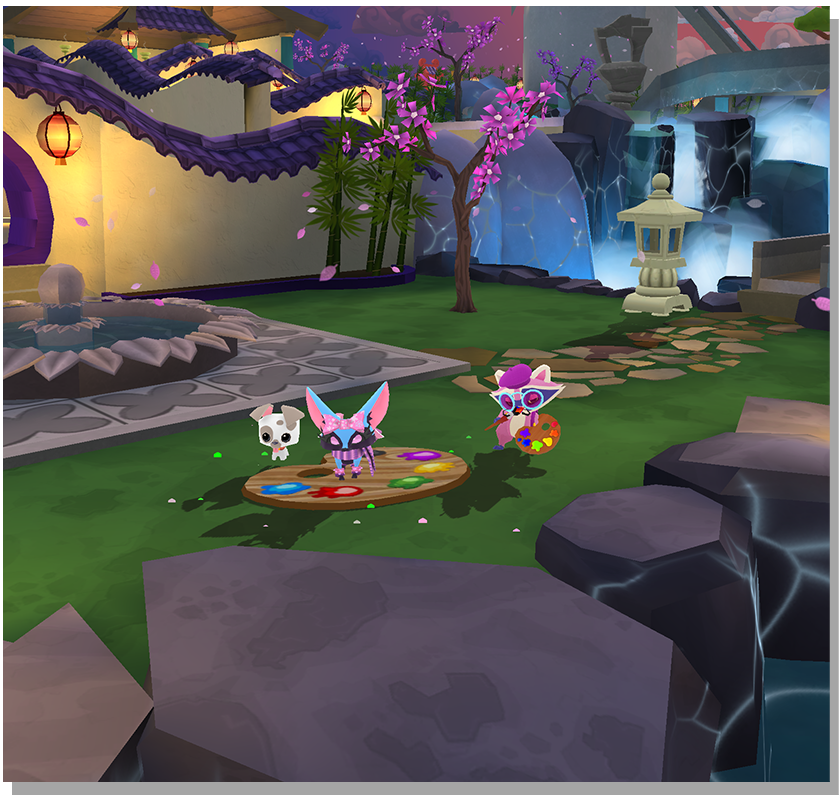 Pack Chat - a group chat you share with your packmates.

When you're part of a Pack, your packmates are never far away! Click the purple tab on the left side of the screen to open the Pack Chat and chat with your packmates anywhere in Jamaa.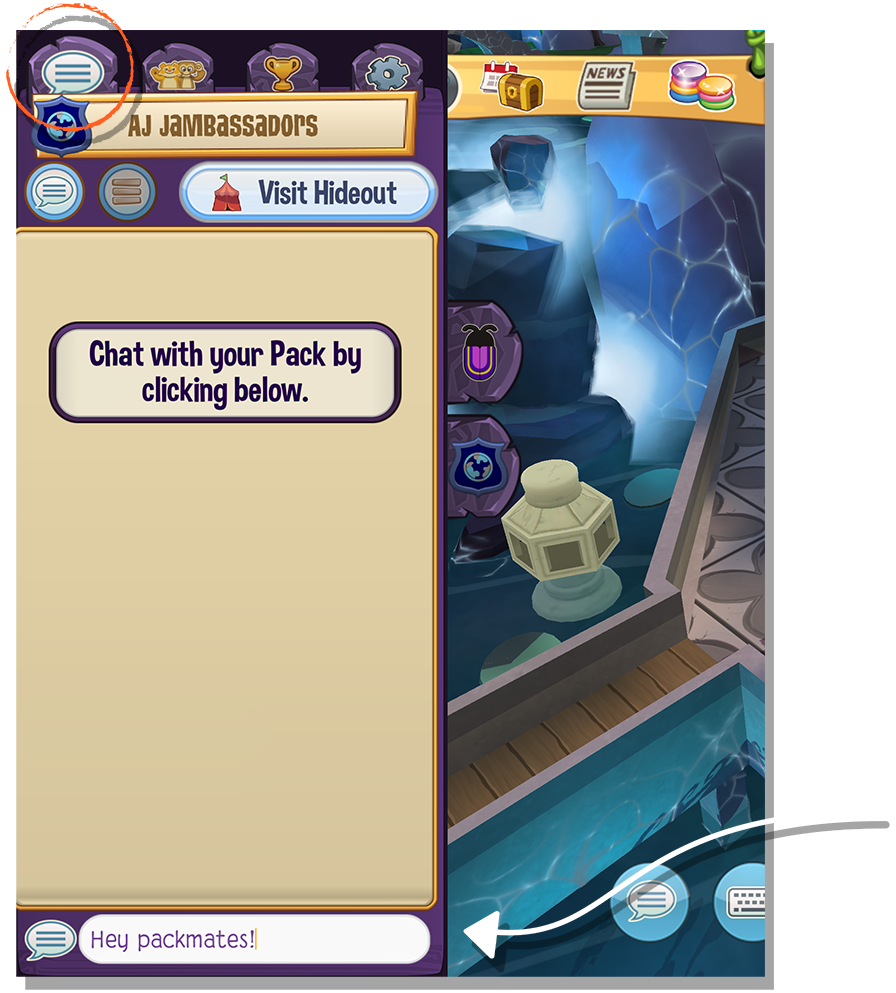 Pack Merch - a shop where you can buy clothing and furniture that displays your Pack Crest

Show off your Pack pride by wearing (on your avatar) or displaying (in your den) a selection of items that prominently feature your Pack Crest!

If you leave your current Pack the Pack Crest on your previously purchased merch will no longer be visible, and will be replaced by the Pack Crest of any new Pack that you join in the future.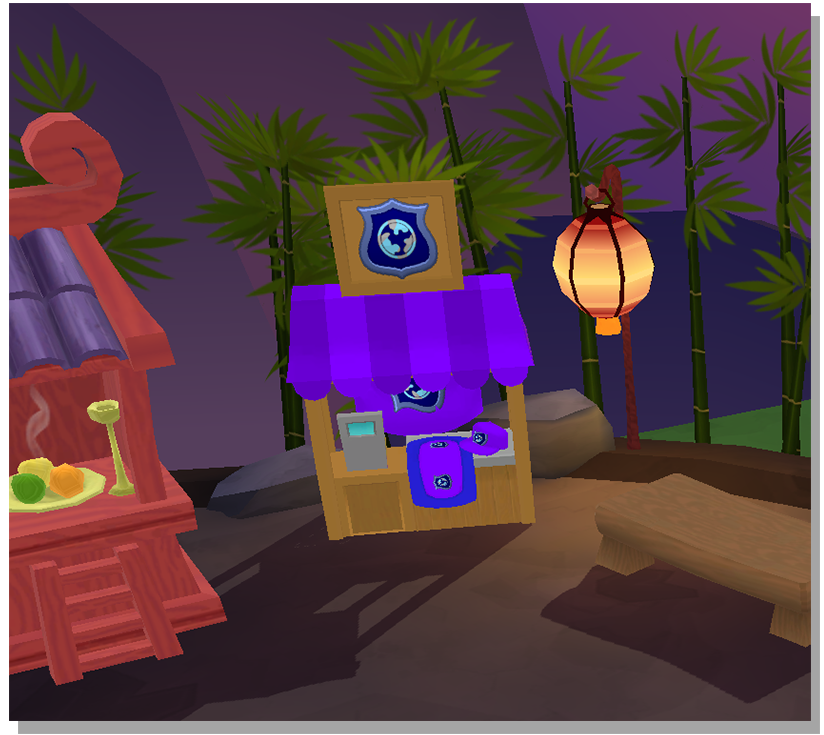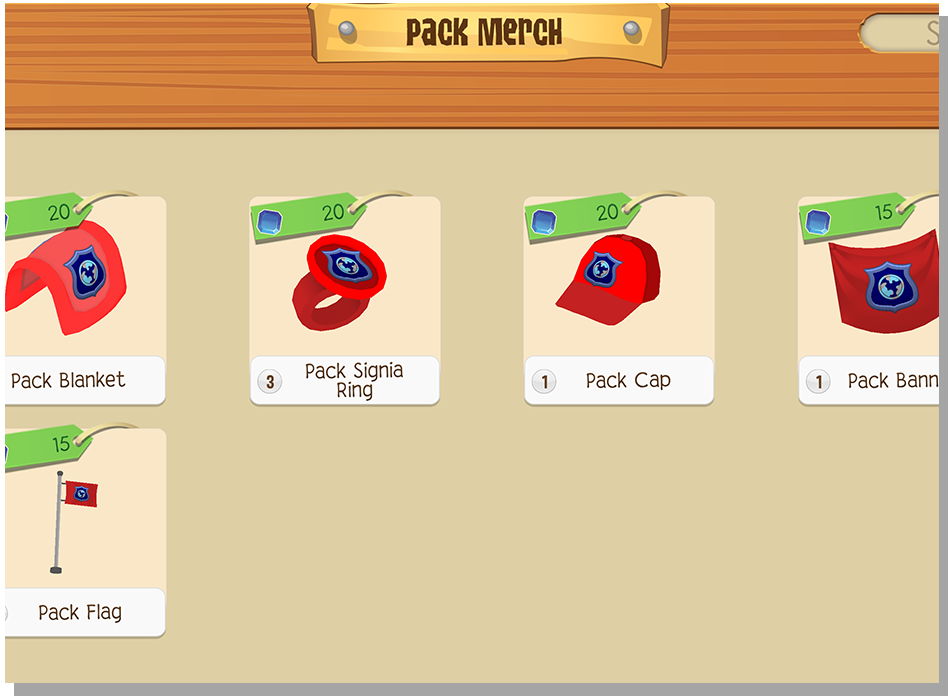 Target Practice - training area where you can practice your Paintseed throwing skills!

It looks like a purple, circular, moving bin/chute located somewhere in your Hideout.
If you approach the area while wearing a Paintseed Launcher Pack your camera perspective will change and you can then throw any Paintseeds you currently have in your inventory.
Earn XP by landing the Paintseeds in the center of the chute.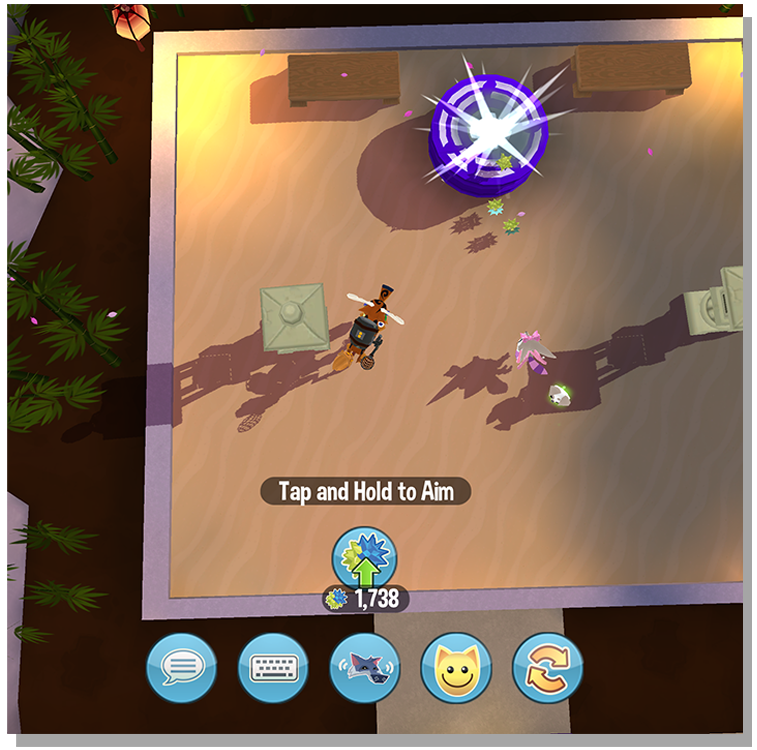 Pack Runs - a group activity you can participate in via both Pack and Alpha Hideouts.

Pack Runs are a timed group challenge that changes with the season; collect a variety of items with your packmates before the time runs out!

By earning points during a Pack Run season you and your packmates can unlock collectible armor sets (each set has a different color palette).

Compete with other teams to see who can win the most points, and therefore the highest spot, on the monthly and all-time Pack Leaderboards.
Learn more about Pack Runs in this article: What are Pack Runs?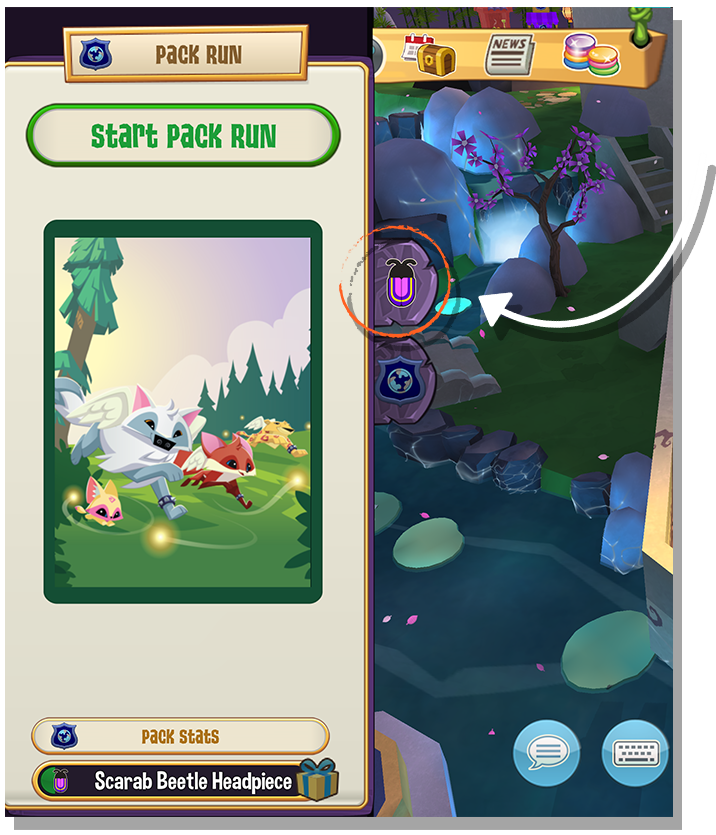 Some Packs enjoy focusing on competing for a spot on the Pack Run leaderboards, while others are focused on roleplays, trading, or just having a fun time with friends. It's all about finding the right Pack for you!
More articles about Packs: